Rhino Conservation Experiences
2024 dates are now confirmed!
Two separate 2024 trips are available
April 16 – April 24
Or
April 24 – May 2
Join teams from Animal Saviours and Endangered Rhino Conservation on the front line of rhino conservation
A quick overview of what you will be doing: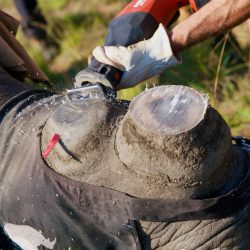 Animal Saviours are thrilled to be working with a team from the Endangered Rhino Conservation charity in South Africa, together with Mankwe Research and Ecology Research Centre, to assist in horn trimming some of their rhino and learn more about African wildlife conservation on the front line. This seven night trip of a lifetime includes airport transfers from Johannesburg International Airport to the research center, all meals during your stay, and a plethora of bush experiences, including, game tracking and anti-poaching demonstrations, and talks from wildlife and conservation experts throughout the week.
There will also be multiple game drives during the trip, giving you the chance to observe and learn about all the animals who call Mankwe their home. And there will be a day trip to the Pilanesberg National Park, where you will have the chance to see the Big 5. The pinnacle of your trip will be the opportunity to assist in the mammoth task of tracking, sedating, and safely trimming the horn of a white rhino. During the horn trimming process, you will observe these magnificent animals up close, touch their skin, listen to them breathe and get a deeper understanding of why it is so important to protect and preserve this magnificent species.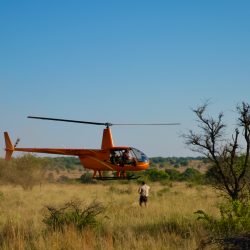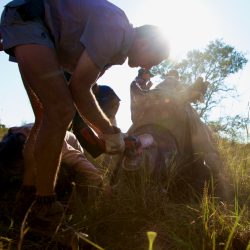 ---
Why do we need your help?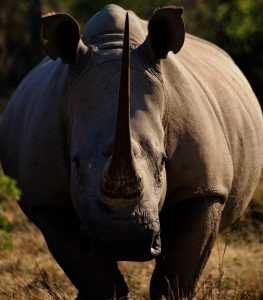 The professional equipment and personnel required to perform the horn trimming, which includes a helicopter, experienced pilot, dart guns, and specialist veterinarians, are essential for the procedure to be performed safely and quickly but is it an expensive process. Your support will help fund this extremely costly, but necessary, procedure as well as the anti-poaching teams who protect the rhino day in and day out.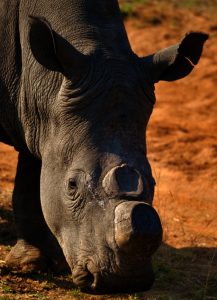 Rhino horn is like your fingernails and grows approximately 7-10cm per year. Although it has no medicinal qualities whatsoever, it is still prized in many countries as a status symbol and is more precious and rare than gold. Mankwe Ecology and Field Research Center has to regularly trim as much of the horn as possible from their rhinos as this seems to be the best way to deter poachers from murdering these special animals. The procedure is painless for the rhino and the latest research shows that it also does not affect their natural behaviour in the wild, in fact, horn trimming increases the chances of a rhino's survival by an incredible 92%. But sadly, even this drastic procedure is not a guarantee that poachers won't try, meaning that multiple canine anti-poaching units need to be deployed every night, 365 days per year.
---
What you need to know:
Who will be accompanying the group?
Two of the trustees from Animal Saviours will be accompanying and guiding the group.
Our chairwoman, Dr. Miriam Lodewijks (MRCVS) will be the lead guide. A veterinary surgeon with over 20 years of experience, she was born and grew up in South Africa, and with extensive bush experience and a passion for rhino conservation, she is the driving force behind the Animal Saviours charity and all our projects.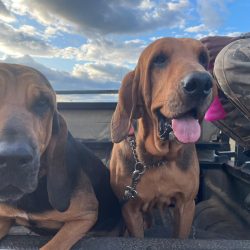 Sandra Raw (BA (Hons)) is a clinical animal behaviourist and experienced dog trainer, who has been a trustee of Animal Saviours since 2019. Sandra's passion for conservation began at Mankwe Wildlife Reserve, where she completed her research for her master's degree, over five years ago. Sandra has been visiting Mankwe as a volunteer at least twice a year ever since, supporting the training programme for anti-poaching teams and their dogs, whose job is to protect the magnificent rhino that roam the wildlife reserve and our group will be lucky enough to meet both the anti-poaching dogs and their handlers.
How big will the group be?
For these trips the group sizes are limited to no more than 18 guests and we will be notify the successful candidates before the end of 2023. We will only be accepting applications through the registration form at the bottom of this page. Direct emails or social media messages will not be accepted as registering interest.
Those people who register interest (via the form below), but who are not successful this time around, have the option to be added to a waiting list for future projects and experiences.
We will do everything we can to inform every person that registers of their status as soon as possible.
How much will it cost and what is included?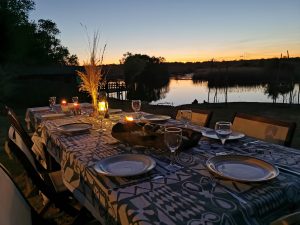 The cost of this once in a lifetime experience (excluding flights) will be £1,250 per person and includes the following:
Group transfer from Johannesburg O.R. Tambo International Airport
Group transfer from Mankwe Camp back to Johannesburg O.R. Tambo International Airport
Breakfast, Lunch and Dinner each day
All the activities shown in the schedule below (including at least one rhino horn trimming)
Alcoholic and non-alcoholic drinks and refreshments are not included.
The dates and preliminary schedule
The dates of the 2024 trips are not fixed at this time and the schedule below is preliminary and subject to change, but will give you an idea of the itinerary.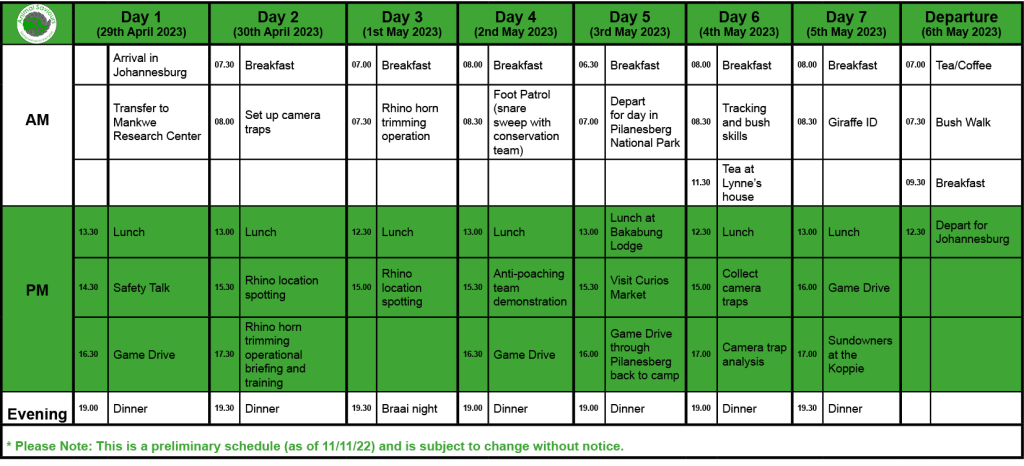 Click on image to enlarge
Travel Options
Travel to Johannesburg is not included in the costs of your experience, and you will be expected to arrange your own flights, but we are happy to offer advice where possible with the best flight options, etc. It will also be possible to travel with one of the accompanying trustees from a UK airport, the details are still to be confirmed at this time.
Please do not book or pay for flights before you receive an email from us confirming that you have a place for this experience. Animal Saviours cannot take responsibility for flight costs, rebooking or cancellation fees. It is your responsibility to wait for confirmation before booking your travel to South Africa.
Arrival in Johannesburg:
All group members must arrive at Johannesburg O.R. Tambo International Airport. There will only be one group transfer available to take you from Johannesburg to Mankwe Research Center. It is planned to leave around 12 noon, so it is imperative that you are able to clear passport control and collect your luggage and be ready to be transferred before then.
Departure from Mankwe Research Center:
The group transfer back to Johannesburg will leave the camp just after midday and should arrive at the airport between 4-5 pm. You will need to arrange your onward travel accordingly.
Could I extend my trip to South Africa after leaving Mankwe Camp?
Yes! In fact, we would highly recommend that you do so, especially if you have not been to South Africa before. The group transfer from Mankwe camp will take you back to Johannesburg, and you will be able to plan your onward journey from there.
Could I arrive in South Africa before the Rhino Conservation experience begins?
This could be possible, but it is essential that you are present for the group transfer from O.R. Tambo International Airport to Mankwe Research Center. For security reasons, the whole group must arrive and depart together.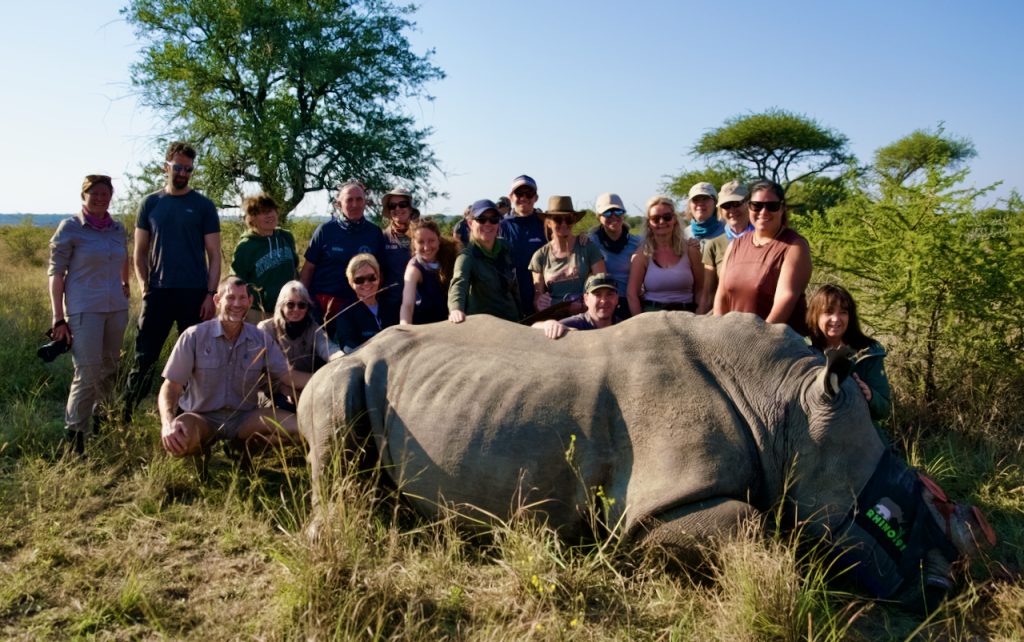 ---